Even terug in de tijd met…
Robbie Rhytmo!
Want het is vandaag weer #throwbackThursday
Een ideale dag dus om eens terug te blikken op een gebeurtenis uit het DJ verleden van myself, DJ Robbie Rhytmo.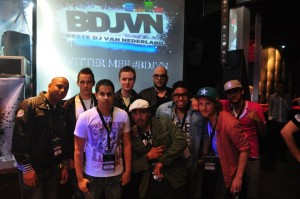 We schrijven het jaar 2012:
het jaar waarin ik mee deed aan de Beste DJ Van Nederland contest.
Nadat ik na een online selectie doorgedrongen was tot de provincie voorrondes,
volgde een leuke en informatieve bijeenkomst, inclusief fotoshoot, bij DJ school
Amsterdam.
In mijn voorronde bij discotheek The Apollo in Helden stonden we met 10 Brabantse
en Limburgse DJ's in de line up. De jury bestond onder andere uit DJ Manie en TLM
(bekend van de hit 'Dansplaat' samen met Brainpower).
Uiteindelijk eindigde ik op de 4e plaats, nipt niet voldoende om door te gaan, aangezien
de 4e DJ op basis van SMS-stemmen door ging. Zonder SMS-stemmen was het wel
gelukt. Desondanks was het een hele toffe avond.
Herbeleef hier nog eens een deel van mijn latin house set van toen:

Overigens kun je de complete versie van deze mix ook nu nog beluisteren en downloaden
in mp3. Je checkt het hier:

Leuk feitje is dat dit ook één van m'n allereerste mixen die ik online heb gedropt.
En het was en is ook nog eens de allereerste mix in de "'Shake That Booty' Summer Vibez" mixtape reeks.
Volgende maand weer een nieuwe "even terug in de tijd met…".
See ya en shine on peeps!